Hi Corey,
I've gotten a couple questions about the parlor guitar you use on Catfish Blues. Can you tell us a little bit about it?
1. Who made it?
2. Is it a slightly shorter scale?
3. What woods are used ... it is a beautiful guitar.
Any other details would be appreciated too. Thanks!
Mike
Mike it is made by Bob Gernandt in Bryson City, NC. Here is the link:
http://www.gernandt.com/parlor_acoustic_guitars.html
I really dig the guitar. He doesn't produce a lot of instruments, as he is more interested in quality instead of quantity. I first met Bob at Merlefest in 2010 and was hooked as soon as I played the guitar. Check out his website and tell him that I sent you.
Thanks
C H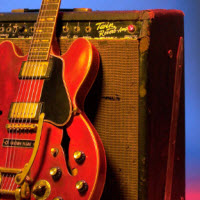 Hi Corey, I would like to know what kind of pickup is installed on your Parlor. I heard the sound on Youtube at JSFM 2015.